Tapas de registro y acceso
Las tapas de registro son ideales para el alcance y control de varias áreas a bordo como tubos de combustible, cableado eléctrico, indicadores, mandos de control e incluso el motor. Están especialmente disenados con una superficie antideslizante y puede ser montado tanto vertical como horizontalmente. Todos las tapas de registro están montados con unos tornillos que van escondidos para una discreta apariencia. Se fijan con una junta redonda de goma para favorecer su estanqueidad, las puertas de acceso pueden tener una o dos manecillas de apertura, donde también se podrá instalar una cerradura y llevan una junta de goma para hacerla hermética .Todos los registros están hechos de plástico de polipropileno, que es una material muy duro y resistente a los rayos solares y especialmente disenado para uso externo.
Access and Inspection Hatches
Access and Inspection Hatches are ideal for easily reaching and controlling various areas on board, such as fuel lines, electrical cables, gauges, controls, even the engine. They are specially designed with a non-skid surface and can be mounted horizontally, as well as, vertically. All hatches are mounted with hidden screws for discrete appearance. They feature an O-ring seal that makes the hatchwatertight,180o opening door, with one or two handles, where you can install a lock and an O-ring seal that makes the hatch watertight. All hatches are made of tough, UV resistant PP (polypropylene) plastic,impervious to chemical solvents and are designed for external use.
Tapas de registro desmontables
Los registros con tapas desmontables están fabricados en un material plástico duro y con una alta resistencia al sol, agua , sal y limpiadores que contengan acetona.No llevan bisagras, asi que se pueden desmontar por completo. De fácil apertura especialmente disenada para desmontarla solo desenroscandola, con sólo girarla 90º en el sentido de las manillas del reloj. Además la superficie es de un material antideslizante y el montaje con tornillos van escondidos para una elegante apariencia.
Inspection Hatches with Detachable Cover
The Inspection Hatches with Detachable Cover are made of tough plastic for extra resistance to the sun, water, salt and detergents containing acetone. They have no hinges, so that you can completely remove the cover. Their opening is easy, since the specially designed thread automatically ejects the cover, once you turn it 90o counter clockwise. Furthemore, they feature non-skid surface and hidden screws for smarter appearance.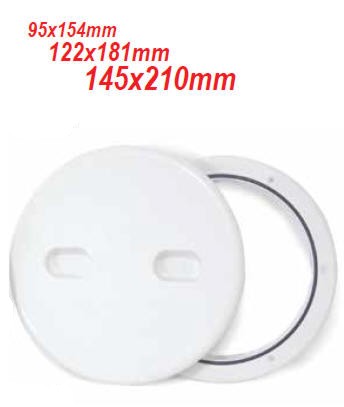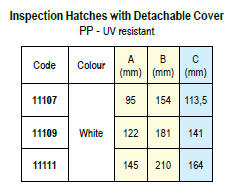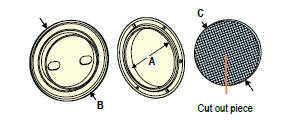 | 11107 Tambucho De Inspeccion diam.154mm,Blanco | 11109 Tambucho De Inspeccion dia.181mm,Blanco | 11111 Tambucho De Inspeccion diam.210mm,Blanco |
| --- | --- | --- |
| 9.91&nbsp€ | 12.43&nbsp€ | 13.76&nbsp€ |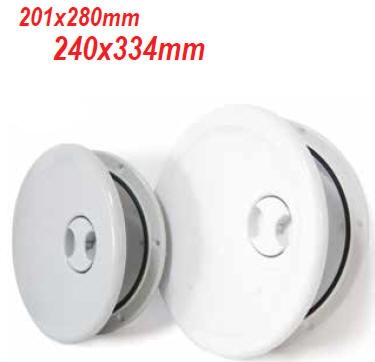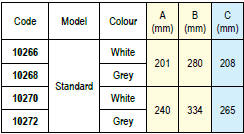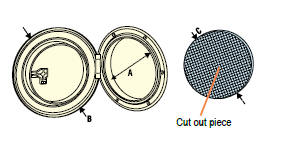 | 10266 Tambucho De Inspeccion Φ 280mm Blanco | 10268 Tambucho De Inspeccion Φ280mm Gris | 10270 Tambucho De Inspeccion 334mm, Blanco | 10272 Tambucho De Inspeccion 334mm, Gris |
| --- | --- | --- | --- |
| 21.99&nbsp€ | 21.99&nbsp€ | 30.07&nbsp€ | 30.07&nbsp€ |
190mm and 235mm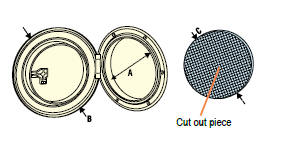 | 42791 INSPECTION PLATE INT DIA190MM WHITE | 46580 INSPECTION PLATE INT DIA190MM GRAY | 43565 INSPECTION PLATE LARGE WHITE | 46579 INSPECTION PLATE INT DIA235MM GRAY |
| --- | --- | --- | --- |
| 19.73&nbsp€ | 23.80&nbsp€ | 27.45&nbsp€ | 33.23&nbsp€ |
100mm - 125mm - 150mm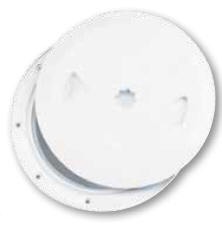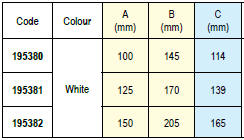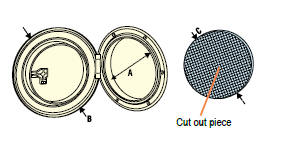 | 195380 DECK PLATE ROUND D113MM WHITE | 195381 DECK PLATE ROUND D138MM WHITE | 195382 DECK PLATE ROUND D164MM WHITE |
| --- | --- | --- |
| 9.05&nbsp€ | 11.27&nbsp€ | 13.97&nbsp€ |
120mm - 145mm - 180mm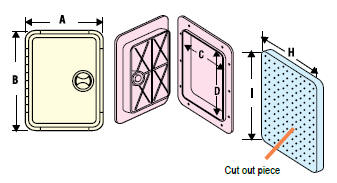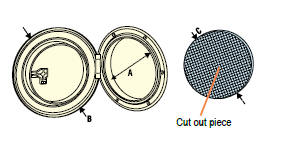 | 196437 DECK PLATE ROUND PRES.LOCK D162MM WHITE | 196446 DECK PLATE ROUND PRES.LOCK D187MM WHITE | 196455 DECK PLATE ROUND PRES.LOCK D182 WHITE |
| --- | --- | --- |
| 8.22&nbsp€ | 9.98&nbsp€ | 11.37&nbsp€ |
115mm - 142mm - 168mm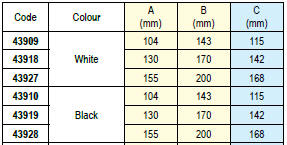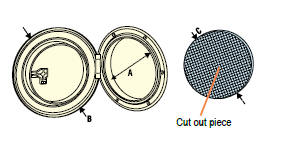 | 43909 DECK PLATE ROUND D143MM WHITE | 43910 DECK PLATE ROUND D143MM BLACK | 43918 DECK PLATE ROUND D170MM WHITE |
| --- | --- | --- |
| 4.31&nbsp€ | 4.31&nbsp€ | 5.12&nbsp€ |
| 43919 DECK PLATE ROUND D170MM BLACK | 43927 DECK PLATE ROUND D200MM WHITE | 43928 DECK PLATE ROUND D200MM BLACK |
| --- | --- | --- |
| 5.12&nbsp€ | 6.11&nbsp€ | 6.11&nbsp€ |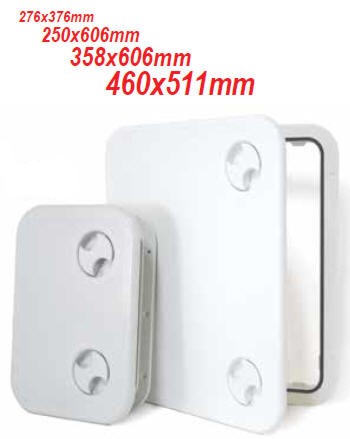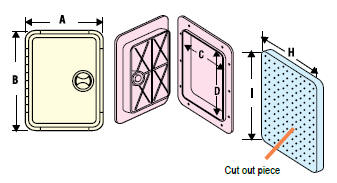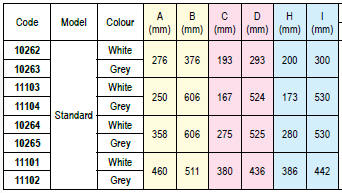 | 10262 Tambucho De Acceso 276x376mm, Blanco | 10263 Tambucho De Acceso 276x376mm, Gris | 11103 Tambucho De Acceso 250x606mm,Blanco | 11104 Tambucho De Acceso 250x606mm, Gris |
| --- | --- | --- | --- |
| 30.07&nbsp€ | 30.07&nbsp€ | 47.70&nbsp€ | 47.70&nbsp€ |
| 10264 Tambucho De Acceso 358x606mm, Blanco | 10265 Tambucho De Acceso 358x606mm, Gris | 11101 Tambucho De Acceso 460x511mm,Blanco | 11102 Tambucho De Acceso 460x511mm, Gris |
| --- | --- | --- | --- |
| 53.36&nbsp€ | 53.36&nbsp€ | 59.63&nbsp€ | 59.63&nbsp€ |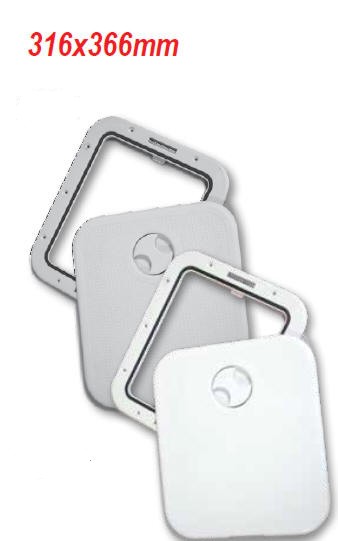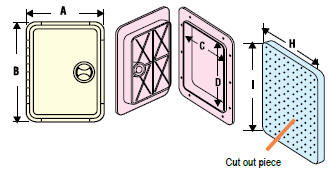 | 11105 Tambucho Acceso Desmontable 316x366mm,Blanco | 11106 Tambucho Acceso Desmontable 316x366mm,Gris |
| --- | --- |
| 24.99&nbsp€ | 24.99&nbsp€ |
306 x 356 380 x 380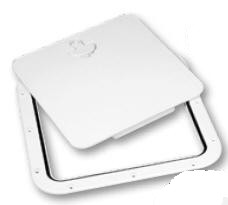 | 45163 ACCESS HATCH RECT. 306X356MM WHITE | 45164 ACCESS HATCH RECT. 306X356MM GREY | 45166 ACCESS HATCH RECT+LOCK 306X356MM WHITE |
| --- | --- | --- |
| 24.30&nbsp€ | 24.30&nbsp€ | 30.97&nbsp€ |
| 45175 ACCESS HATCH SQUARE 380X380MM WHITE | 45176 ACCESS HATCH SQUARE 380X380MM GREY | 45178 ACCESS HATCH SQUARE+LOCK 380X380MM WHITE |
| --- | --- | --- |
| 28.40&nbsp€ | 28.40&nbsp€ | 40.38&nbsp€ |