Control Panels
Control system safety features
Max Power's thruster control systems are childproof and incorporate unique safety features. The control system software monitors for incoherent signals, stray voltage, and abnormally long thrust signals in order to help protect against malfunctions caused by water ingress and short circuits. Visual and audio alarms provide a 10 second warning before the overheat shutdown function is activated. If left idle for thirty minutes, the system switches itself off automatically. Designed with technical details such as independent control power supply (protects relays against damage due to low voltage), and standard remote electric battery isolator control, Max Power's system is clearly ahead of the competition. These effective mechanisms ensure that your Max Power thruster is both safe and reliable thus guaranteeing peace of mind onboard.
Features
Childproof activation.
Automatic shutdown after 30 minutes of inactivity.
Visible and audible motor overheat warning.
Motor overheat shutdown after prior warning.
Standard automatic battery isolator control.
Time delay switch between port and starboard thrust.
Software protection against short circuits.
Max Power strongly recommends the installation of an automatic battery isolator device when installing thruster systems.
318201-TOUCH PANEL GREY -- 318200-TOUCH PANEL BLACK
Compatible with all Tunnel Thrusters

163.19&nbsp€


318201
grey

163.19&nbsp€


318200
black
318203-JOYSTICK SIMPLE GREY -- 318202-JOYSTICK SIMPLE BLACK
Compatible with all Tunnel Thrusters

188.20&nbsp€


318203
grey

188.20&nbsp€


318202
black
318205-JOYSTICK DOUBLE GREY -- 318204-JOYSTICK DOUBLE BLACK
Compatible with all Tunnel Thrusters

351.26&nbsp€


318205
grey

351.26&nbsp€


318204
black
318234-CONTROL PANEL BOAT BLACK
The Boat control panel simplifies the combined use of a bow and stern thruster.
Full and simultaneous control of both thrusters is possible via one easy to use manipulator.
Stepping the boat sideways or turning 360° on the spot become smooth, simple operations, and each thruster can still be used independently.

401.38&nbsp€


318234
318224-JOYSTICK VIP and RETRACT GREY -- 318206-JOYSTICK VIP and RETRACT BLACK
Compatible with: Compact Rectract all VIP and R200

326.22&nbsp€


318224
grey

326.22&nbsp€


318206
black
318226-JOYSTICK BLACK R300/R450
Compatible with: R300 and R450

326.22&nbsp€


318226
318233-TOUCH PANEL DOUBLE BLACK 2004
Compatible with: All retractable thrusters, in combination with: 318204 - 318205 - 318234

370.26&nbsp€


318233
Radio Remote Controls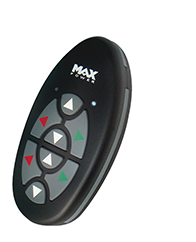 Max Power Radio remote control is designed to work with our entire range of tunnel and retractable thrusters. The remote control can also be used to operate additional onboard equipment such as windlasses, passerelles, cranes, etc.
Features
Transmitter rated IP 67.
Supports up to 8 independently control channels.
Each receiver can switch 4 channels (12/24V -2A).
Each transmitter can handle 2 receivers (8 channels).
Digital recognition avoids accidental activation of other systems.
Zero power consumption when in standby mode(transmitter).
Easy to install and set up, simple to use.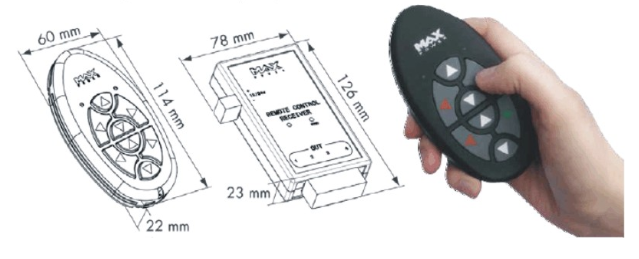 EU
Description
Transmitter and Receiver
(EU)
Reciever
(EU)
Transmitter
(EU)
Frequency
868MHz
868MHz
868MHz
Voltage
12v-24v
12v-24v
2 x 3v CR2430
Operating Temp
-10 : +60
-10 : +60
-10 : +60
IP Protection Transmitter
67
67
Max Amps Contacts Receiver
2a
2a
Weight (gr)
310
100
85
Dimensions (mm)
26x78x23
114x60x22
Prices

317.00&nbsp€


312973

203.69&nbsp€


312971

144.50&nbsp€


312969
USA
Description
Transmitter and Receiver
(USA)
Receiver
(USA)
Transmitter
(USA)
Frequency
915MHz
915MHz
915MHz
Voltage
12v-24v
12v-24v
2 x 3v CR2430
Operating Temp
-10 : +60
-10 : +60
-10 : +60
IP Protection Transmitter
67
67
Max Amps Contacts Receiver
2a
2a
Weight (gr)
310
100
85
Dimensions (mm)
26x78x23
114x78x23
Prices

317.00&nbsp€


312974

199.87&nbsp€


312972

168.28&nbsp€


312970